RichmondCC Partners with Coker College to Offer Online Bachelor's Degrees
March 7, 2019 – Richmond Community College has partnered with Coker College, soon to be Coker University, to offer 100 percent online bachelor's degree programs in business management, criminology, and psychology for RichmondCC graduates.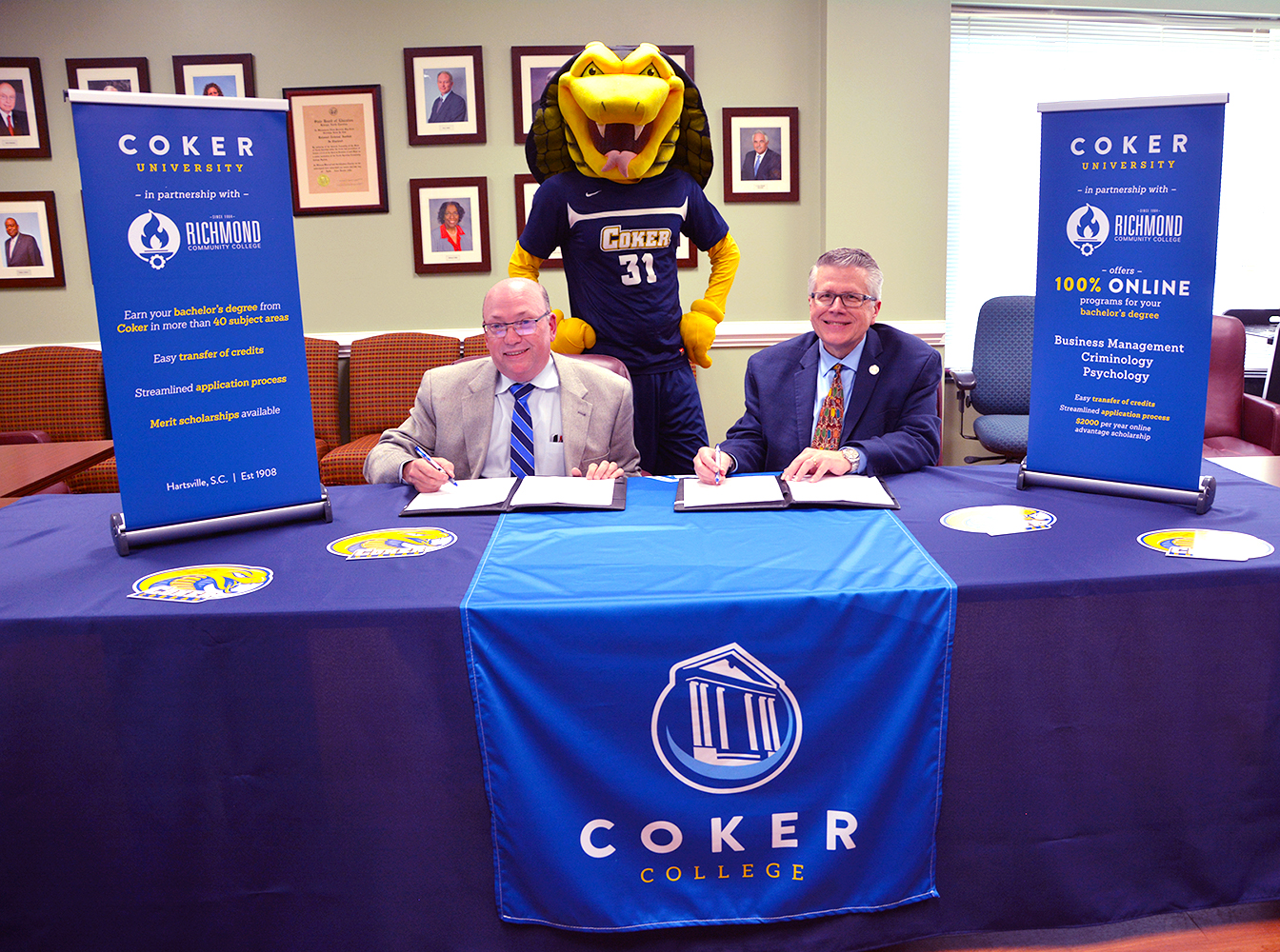 RichmondCC graduates who earn their associate degree in business administration, criminal justice, human services or university transfer can transfer those credits directly into Coker's 100 percent online business management, criminology or psychology program, giving students two years of completed course requirements toward their bachelor's degree. These flexible, online programs operate on an accelerated schedule, allowing students to finish their bachelor's degree in just two years. Coker will award a $2,000-per year RichmondCC Online Advantage Scholarship (for up to three years) to RichmondCC graduates (present and past) of the Associate in Applied Science degrees in Business Administration, Criminal Justice and Psychology who pursue the 100 percent online bachelor's program.
"Coker is excited to partner with Richmond Community College to give students the opportunity to earn their bachelor's degree in as little as two years," says Elaine Hodges, director of transfer and online admissions at Coker. "Online degree programs are a great option for students desiring flexibility and convenience, especially if they are juggling responsibilities such as families and jobs. We're also hoping to see some RichmondCC graduates working toward their bachelor's degree in one of our 40 subject areas by attending classes on Coker's campus."
Coker College is a student-focused, comprehensive college with a strong liberal arts core located in Hartsville, S.C.
Coker's online degree programs begin in August and January. RichmondCC graduates interested in joining the online bridge program can complete an application online. In May, RichmondCC graduates will be eligible for the first cohort beginning in August and are encouraged to apply immediately. Learn more about continuing your studies at Coker College through the bridge program.
"This is a great partnership with a great university, and we look forward to building upon this relationship with Coker College and the impact it will have on our students," said Patsy Stanley, director of Career & Transfer Services at RichmondCC.
For more information about RichmondCC's partnership with Coker College, contact Stanley at (910) 410-1830 or pjstanley@richmondcc.edu, or contact Hodges at ehodges@coker.edu or (843) 857-4194.
About Coker College
Coker College is a student-focused, comprehensive college with a strong liberal arts core located in Hartsville, S.C. Coker combines round table, discussion-based learning with hands-on experiences to encourage active participation in and out of the classroom. A supportive, close-knit community prepares Coker students with the confidence and practical life skills they need to reach their personal best, in college and beyond.
Founded in 1908, Coker is a bachelor's and master's degree-granting institution and competes in 24 NCAA Division II sports. Coker is included among the "Best Colleges" in the South by U.S. News & World Report as well as The Princeton Review, and by Washington Monthly as a "Best Bang for Your Buck" college in the Southeast.