RichmondCC Instructor Discusses Opioid Epidemic at Workshop
April 10, 2018 – One of Richmond Community College's faculty members was invited to be among the presenters at the NC School Social Work Association's spring workshop held March 29 at the University of North Carolina-Pembroke.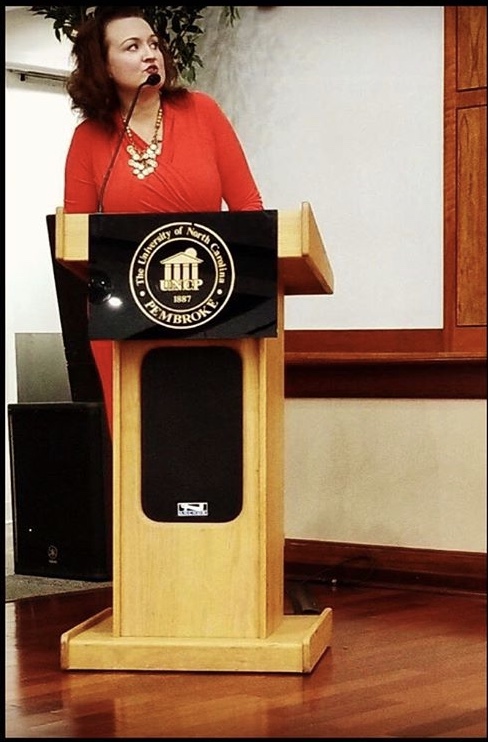 Human Services Technology instructor Amanda Faulk spoke on the opioid epidemic and its effect on public schools and higher education at the 2018 Southeast Region Spring Workshop. The theme for workshop was "School Social Workers: Leading Interventions for Student Success."
Faulk was one of three presenters who touched on topics relating to social work.
"It was an honor to be invited to present on the opioid epidemic at the spring workshop," Faulk said. "This topic is more crucial now than ever before. The opioid addiction in adolescents is on the rise, and we as a community must take action. It truly takes a village to raise a child. We need to learn tools for prevention and intervention. We cannot sit back and let this epidemic take over our youth."
Faulk encourages anyone interested in a career addressing social issues such as this to consider enrolling in Human Services Technology. RichmondCC offers two concentrations of study — Social Services and Substance Abuse — that lead to associate degrees in Human Services Technology. It also offers four certificates for people already working in the human services field to earn additional credentialing. Those certificates are Gerontology, At-Risk Youth, Substance Abuse and Social Services.
Human Services Mini-Conference
The College is also holding a Human Services Mini-Conference on Tuesday, April 24, from 9 a.m. to 12 p.m. at the Cole Auditorium, which will allow people to learn more about career pathways into the human services field. Representatives from several agencies will be presenting on the demand for more human services professionals in the field to handle social issues that plague today's communities.
"If you are interested in a career in human services, this is a great opportunity to network with potential employers," Faulk said.
This event is free and open to the public.
Fall Registration Is Open
The College is now registering new students for fall semester. Call (910) 410-1927 or email abfaulk@richmondcc.edu if you are interested in starting your degree in Human Services Technology this fall.