Registration Opens for Spring Semester; Schedule Your Classes Now
Oct. 22, 2018 - Registration is now open for new and current students for the 2019 Spring Semester at Richmond Community College.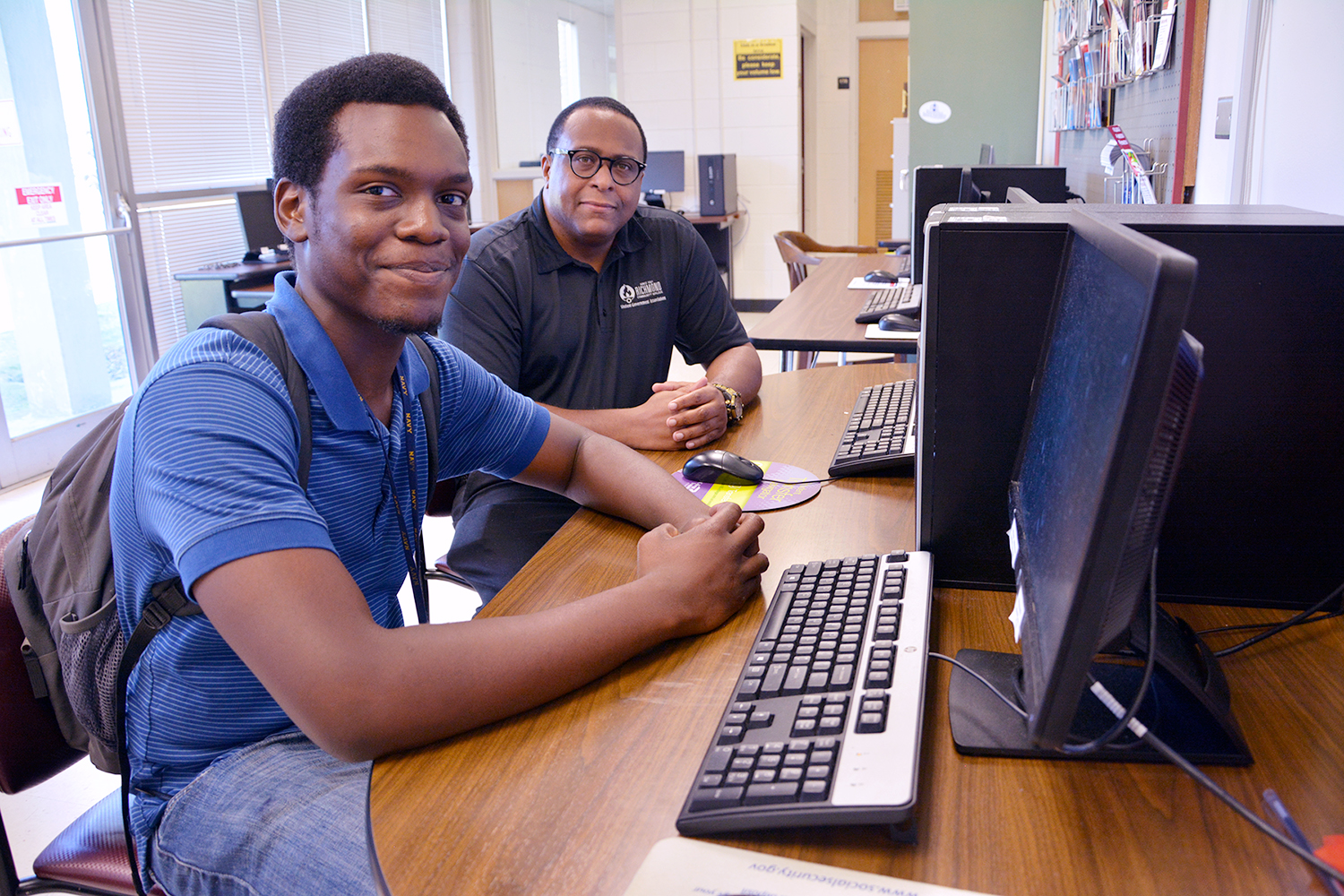 This means you can now begin enrolling in spring classes.
If you are currently enrolled as a student at RichmondCC, you must see your advisor to schedule your classes for next semester. If you are not currently enrolled, now is the time to complete a free admissions application and plan a meeting with a counselor so you can take the classes that fit your schedule.
"The earlier you schedule your classes for Spring Semester, the more likely you'll be able to get the classes that you want at the times that best suit your needs," Vice President of Instruction Kevin Parsons said. "Classes fill up quickly, so we encourage you to not wait until the last minute to register for spring classes."
In response to the needs of current students and prospective students, RichmondCC is offering more evening classes this spring with Evening College. While the College is steadily growing its online class, the community college also wants to continue to be the place to take "night classes."
"We are making an effort to bring back more evening classes for people who prefer the traditional classroom setting over an online course," Parson said about Evening College. "We hope people who work or have other responsibilities during the day will take advantage of evening classes this Spring Semester."
New This Spring
RichmondCC will now be offering MAT 285 Differential Equations this spring. This is an important class for students in our engineering programs because it is a new transferable class, and no other community college is currently offering this class.
This class is offered in the Associate in Engineering program, which is a completely transferable associate degree.
"While many of our engineering students are learning a trade that will put them on the fast track to a good paying job, we also have a transferable engineering degree for those who want to continue their education and get a bachelor's degree," Parsons said. "Students who earn an Associate in Engineering from RichmondCC and then transfer to a four-year college or university will save a lot of money on tuition, and they'll also have a jumpstart on their bachelor's degree."
Transfer Pathways
RichmondCC has created new transfer pathways with a number of four-year colleges and universities, making transfer a smooth and seamless process as well as opening the door for more people to afford a bachelor's degree.
WGU-North Carolina will provide RichmondCC graduates and faculty with a 5 percent discount on its already cost effective tuition of around $3,500 per term for undergraduate programs. A $2,000 scholarship is also available to qualified RichmondCC students who are interested in transferring to WGU (Western Governor's University).
Fayetteville State University will accept RichmondCC graduates to complete an online bachelor's degree at FSU at a total cost of no more than $10,000 in out-of-pocket expenses. The $10K Pathway Plan opens the door to affordable bachelor's degrees in these online programs at FSU: Accounting, Birth to Kindergarten (non-teaching), Criminal Justice, Fire and Emergency Services Administration, Business Administration (General), Intelligence Studies, Nursing, Professional Studies, Psychology and Sociology. While these degree programs are fully online, FSU will provide regular face-to-face contact with program participants when needed.
The Citadel will allow RichmondCC students to enroll online into The Citadel's Tommy and Victoria Baker School of Business, a division of The Citadel Graduate College. RichmondCC students who complete an associate degree as outlined in the agreement will be awarded full transfer credit and afforded the opportunity to complete the bachelor's degree in Business Administration in four semesters of study at The Citadel.
Columbia College will accept RichmondCC students who finish an Associate in Criminal Justice into its online Bachelor of Arts Criminal Justice program with a choice to concentrate in Forensics or Leadership and Risk Management. The new agreement guarantees up to 90 credit hours can be transferred to Columbia College, which leaves only 30 credit hours required to earn a bachelor's degree. Columbia College, which is located in Columbia, S.C., also offers students a "4+1" program, which allows students to obtain a bachelor's and master's degree in criminal justice in just five years.
Excelsior College will allow RichmondCC graduates of the Electric Utility Substation and Relay Technology (EUSRT) program to transfer directly into one of two online bachelor degree programs: Electrical Engineering Technology or Technology Management/Electrical Technology. Under the agreement, a student from RichmondCC can transfer up to 90 credits to Excelsior and will not have to pay an application fee, which amounts to a 50 percent savings.
Excelsior will also accept RichmondCC graduates of the Information Technology and Cybersecurity programs to earn bachelor degrees in these fields. They also will be allowed to transfer up to 90 credits and will not have pay an application fee.
Many University Transfer Pathways Available
RichmondCC also has transfer agreements with all North Carolina state colleges and universities and several private colleges, including Wingate, Campbell, Gardner-Webb and Pfeiffer. For additional information about transfer opportunities available through RichmondCC, contact Director of Career and Transfer Services Patsy Stanley at (910) 410-1830 or email pjstanley@richmondcc.edu.
The 2019-2020 FAFSA Opens Oct. 1
If you need financial aid to help you pay for college, you must complete the Free Application for Federal Student Aid (FAFSA®) form. The 2019–20 FAFSA form became Oct. 1. You should fill it out as soon as possible on or after Oct. 1 at the official government site, www.fafsa.gov.
To apply for federal aid as a North Carolina student, you must complete a FAFSA. Start by applying for an FSA ID and password online at www.fsaid.ed.gov. Dependent students and their parents each need a FSA ID and password. This information is used to electronically sign the FAFSA application. Keep the information on file because you use it each year to file your FAFSA. Students must complete a new FAFSA each academic year.
It'll be easier to complete the FAFSA form if you gather what you need ahead of time. Below is what you'll need to fill it out.
Your FSA ID: An FSA ID is a username and password that you can use to log in to certain U.S. Department of Education (ED) websites. We recommend creating your FSA ID early—even before you're ready to complete the FAFSA form—to avoid delays in the process.
Your Social Security Number
Your driver's license number
Your 2017 tax records
Records of your untaxed income
Records of your assets (money)
List of the school(s) you are interested in attending
If you have trouble with the application, you can call 1-800-4-FEDAID (800-433-3243) or visit our Financial Aid page. RichmondCC's federal school code is 005464.