Irish Dance Troupe To Perform At RCC On St. Patrick's Day
The Cole Auditorium will feature a touch of Ireland on St. Patrick's Day, as the 2014-15 DeWitt Performing Arts Series continues with Rhythm of the Dance, a celebration of the history of Celtic dance featuring the National Dance Company of Ireland.
The amazing cast of dancers, musicians and singers have traveled across the globe to perform. Most members of the dance troupe began training by the age of 5 and have worked diligently to hone their craft. Rhythm of the Dance is internationally rated as one of the most popular and successful Irish Step Dance shows.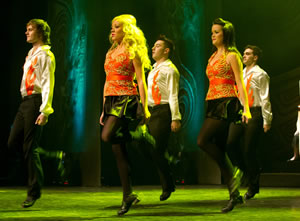 A synopsis of the 23-scene, two-act show may be found on the group's website, rhythmofthedance.com, under "The Story" tab. The two-hour show, which features music by a live band, will be the first international performance the DeWitt Series has hosted in several years. Following next week's local performance, the group is scheduled for a month-long residency at Dollywood in Pigeon Forge, Tenn.
"We're very excited to be hosting this performance, especially on St. Patrick's Day," said Cole Auditorium Director Joey Bennett. "Everyone is encouraged to wear green and come get a taste of true Irish culture."
Along with the traditional Irish dance, featured numbers include Sean Nos, modern dance, ballet and much more, reliving the journey of the Irish Celts throughout history.
Tickets to Rhythm of the Dance are on sale now for $35. For more information about tickets, contact the Cole Auditorium Box Office at (910) 410-1691. Box Office hours are 8:30 a.m. to 4:30 p.m. Monday through Thursday and 8:30 a.m. to 2 p.m. Friday. The Cole Auditorium is located at 1042 W. Hamlet Ave., Hamlet.