Engineering Instructor Annie Smith Applauded for QEP Efforts
Mechanical Engineering Technology Instructor Annie Smith is spring semester's winner of the QEP faculty prize drawing. She was awarded $25 cash from the RCC Foundation in support of the College's Quality Enhancement Plan Speaking to Convey, Writing to Display.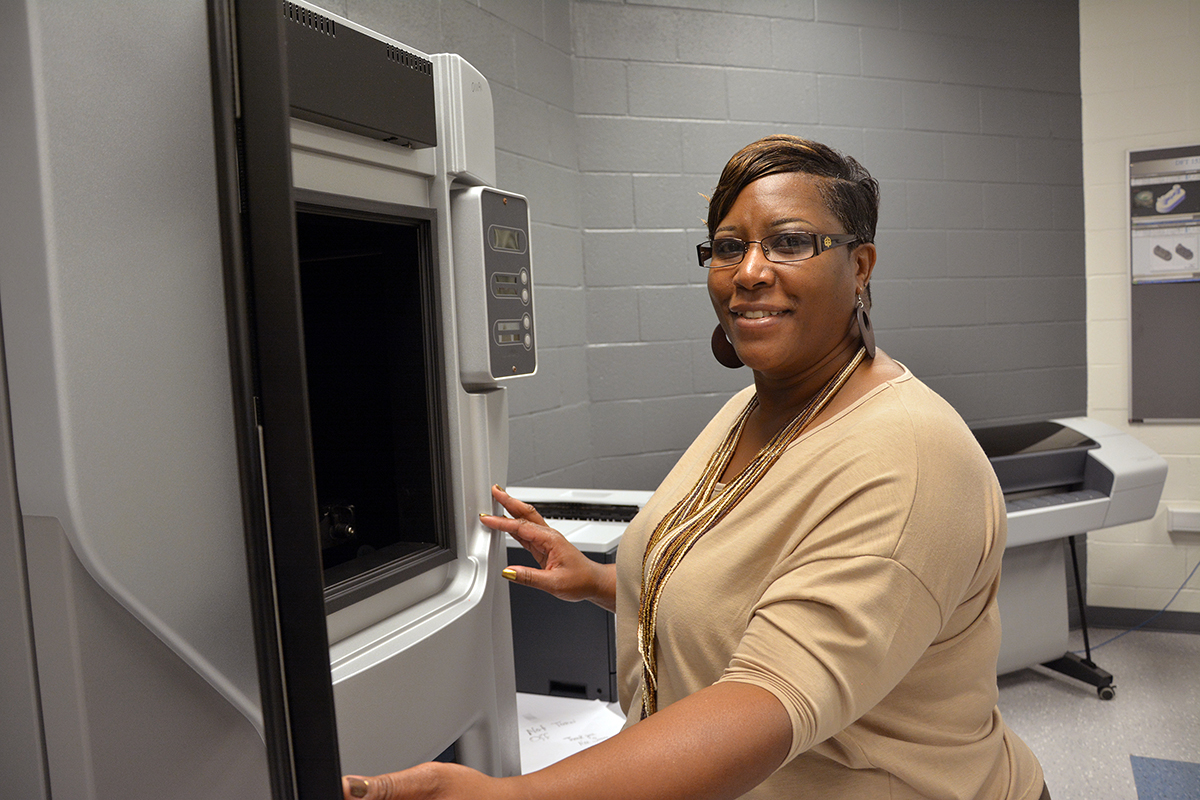 The Foundation also provided $10 student QEP incentive What's Fore Lunch vouchers for several Computer, Electronics, and Mechanical Engineering Technologies students.
Annie has come up with some innovative ways to help improve the oral and written communication skills of her students.
"To incorporate QEP into my classroom, I have a descriptive game titled 'Name That View' in which a prize is given for the team of the most correct chosen views with the highest grammar rubrics score. I also ask random QEP questions and give out prizes."
Annie has also made videos available to her students on Moodle, including a presentation of a Machine Design Project created by one of her former students, a video about wrong PowerPoint usage, and a video about using correct grammar.
"Also on Moodle, I have a design project report template, a Gantt chart for planning, cost list charts, a PowerPoint outline, and the grading Rubrics, so the students will know what is expected of them," she said.
Her students became more receptive to the QEP implementations in her class once they had a class discussion about the importance of speaking well and expressing oneself to obtain a job.
"Having an open discussion in class about the fears of speaking in front of others allowed the students to see it's a common thing and how there is help available to them to overcome that fear," she said.
As a result, her students are more confident and relaxed for their presentations and have expressed their support of the QEP.
"Because of the emphasis on the QEP, my students recognize the importance of being able to express themselves better in interviews and on the job, and they want to be able to do that."
Annie has been an instructor for RCC for three years. She teaches CAD I, II, III, Basic Drafting, Machine Design, Machine Design Project, Static and Strength of Materials, Engineering Materials, Architectural Drafting, Injection Molding and Manufacturing Processes I.
"Without written and oral communication skills, a person will struggle with self-expression. Having self-expression of oneself shows confidence, and that confidence will motivate a person to apply for jobs that initially would not be an option if there was doubt of his or her ability to perform a skill," she said.
We applaud Annie for her efforts as well as those of other Engineering Technologies Group One Faculty to improve student learning outcomes by embracing the QEP and incorporating it into the classroom.