Charlotte Symphony Returns to Cole Auditorium for Patriotic Concert
June 11, 2018 - The Charlotte Symphony returns to the Cole Auditorium in Hamlet for an all-American musical celebration of America's birthday on June 26 at 7:30 p.m.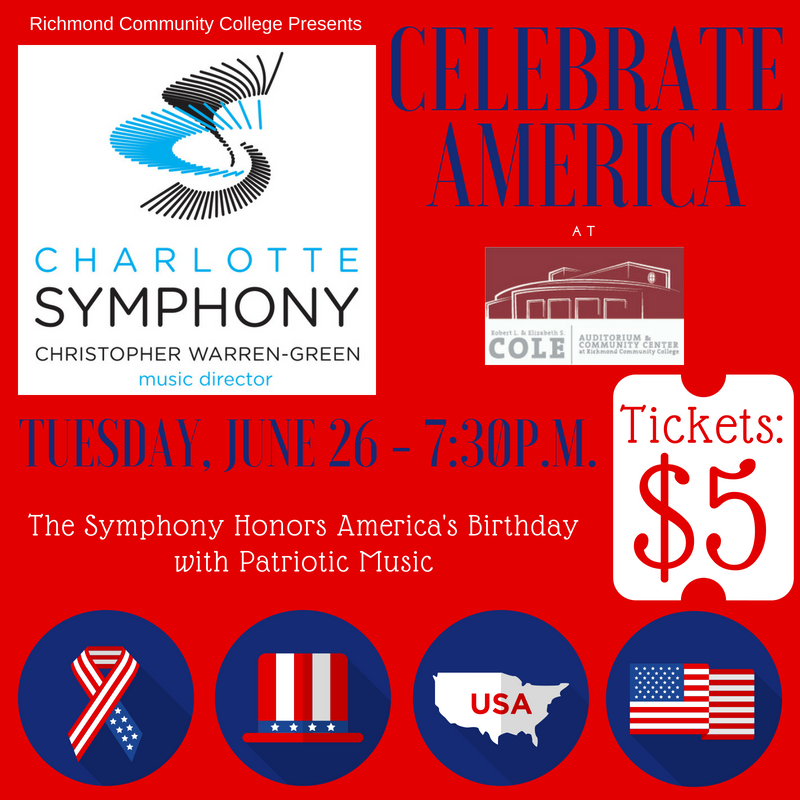 The concert, entitled "Celebrate America," will mark the symphony's second appearance at the Cole this year following the largely successful concert "The Musical World of Harry Potter," which was performed by the symphony in January. This performance will mark the sixth time the Symphony has performed at the Cole.
The one-hour concert will be led and narrated by conductor Christopher James Lees and will feature some favorite patriotic hits played by the symphony, including "America the Beautiful," "God Bless America," the "Armed Forces Salute" and much more.
Richmond Community College, the Cole Auditorium and the Charlotte Symphony are partnering on this project to bring performances to rural North Carolina communities. The show is being funded by a grant secured by the symphony.
The symphony is set to present the show again in Charlotte on July 1 as part of an outdoor firework celebration. Tickets are $5 and can be purchased at the Cole Auditorium Box Office located on the College's main campus in Hamlet. For more information, call (910) 410-1691 or email coleaud@richmondcc.edu.