Graduation 2019
May 10: Graduation Rehearsal will be held at the Cole Auditorium starting at 6 p.m.
May 11: Two graduation ceremonies will be held at 11 a.m. and 2 p.m.
Don't Miss the Grad Fair!
Attention all Class of 2019 Graduates! We are hosting a Grad Fair drop-in on April 17 to celebrate your accomplishments. Don't miss out on the fun!
Drop In: April 17 from 10 a.m. to 2 p.m. at the Cole Auditorium
Graduation Details for Graduates
Ceremony Time & Tickets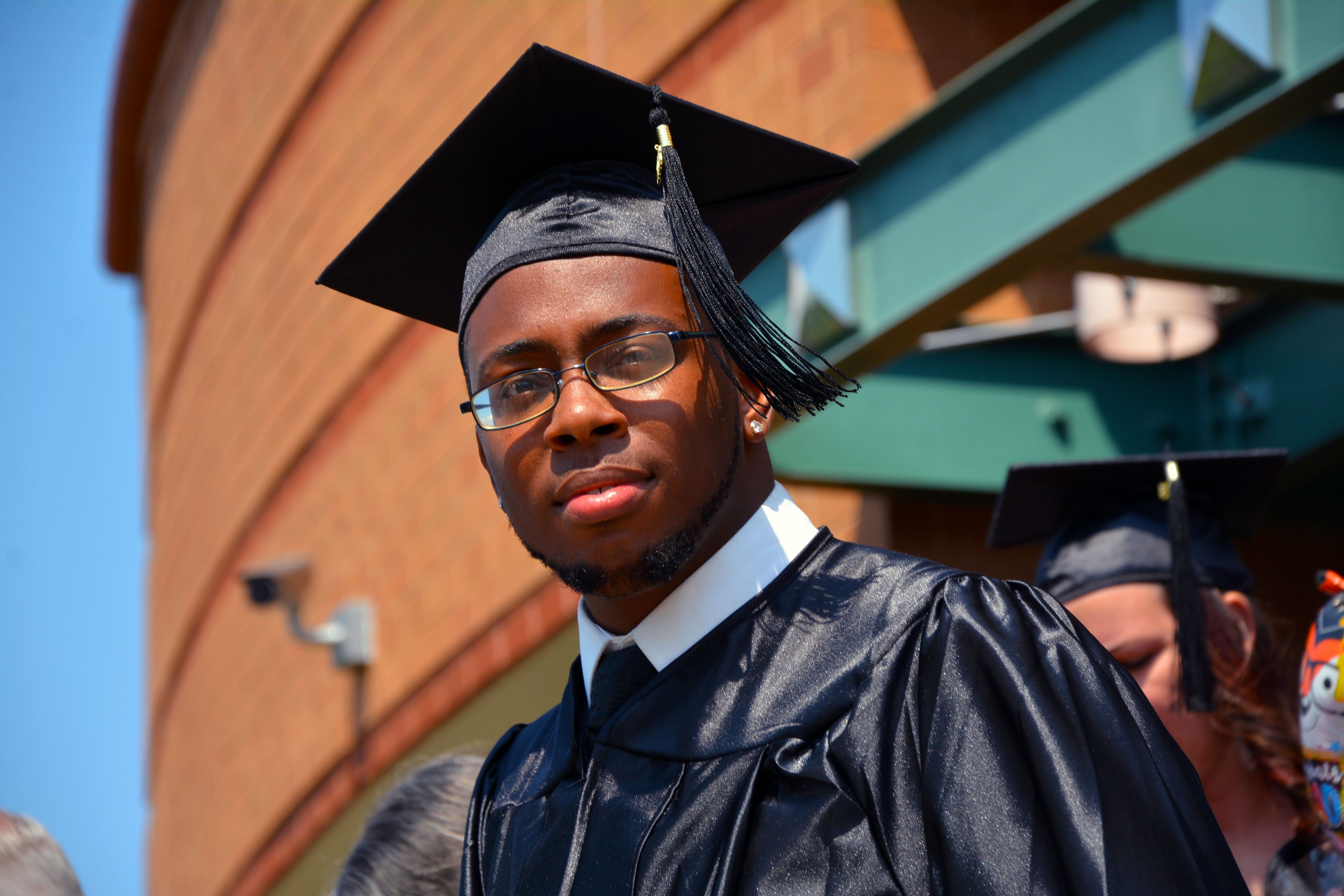 In April, graduates will receive a letter notifying them of their ceremony time and number of guest tickets they will receive. Unfortunately, additional tickets are not available for purchase. If additional tickets can be given, there will be a drawing the evening of rehearsal. Guests without a ticket are invited to view the ceremony from the lobby of the Cole Auditorium via live stream. In the event seats become available, the Cole Auditorium staff may seat these guests in the auditorium.
Caps & Gowns
Caps and gowns will be given out during rehearsal. Caps and gowns are purchased by Richmond Community College based on the information provided on the graduation application.
No writing or decoration may be placed on caps or gowns. Items may not be worn on the outside of the gown. Only cords provided by RichmondCC and Phi Theta Kappa cords and/or stoles are allowed in addition to your cap and gown.
Graduation Honors
Honors are given based on the program Grade Point Average (GPA) of the degree or diploma earned.
| | | |
| --- | --- | --- |
| Honor | Cord Color | GPA |
| Summa Cum Laude | Gold | 4.0 |
| Magna Cum Laude | Silver | 3.75 - 3.99 |
| Cum Laude | White | 3.5 - 3.74 |
If a student graduates with more than one degree/diploma, the highest honor earned will be given.
In recognition of their service to our country, Veterans, active duty members, and members of the guard and reserve units in the U.S. Armed Forces will receive a red, white, and blue honor cord. If you think you are eligible to receive this cord, please contact Crystal Shepard, ccshepard@richmondcc.edu, (910) 410-1727.
Only students attending the ceremony will receive honor cords.
Members of the Phi Theta Kappa Honor Society have the opportunity to purchase cords and/or stoles to wear during the graduation ceremony. These items must be purchased by the student through Phi Theta Kappa. If you are unsure if you are a member of Phi Theta Kappa or need help ordering the cords and/or stole, please contact Elgin Emanuel, elemanuel@richmondcc.edu, (910) 410-1935.
How to Dress?
You should dress as if you are attending a semi-formal event.
Do not wear shorts
Do not wear casual sandals
Do not wear flip flops
Suggestions:
Men should wear a tie
White or light colored shirt
Dark pants and shoes
Don't wear high heels if you are not used to walking in them
Commencement is not the day to break in new shoes
Do I have to attend the ceremony?
No. If you do not attend the graduation ceremony, your degree or diploma will be available for you to pick up in the Registrar's Office the week following the ceremony. Degrees and Diplomas are not mailed. A photo ID is required to pick up your degree or diploma.
If I withdraw or don't pass my class, can I still attend the ceremony?
Maybe. Students with four credit hours or less remaining to finish their degree or diploma are allowed to participate in the ceremony. If you fail or withdraw from your classes and that leaves you with more than four hours remaining, you will not be allowed to participate in the ceremony. After you complete the required courses in another semester, apply for graduation again.