Carcerts at the Cole
The Carcerts at the Cole Series was created to invite the community to drive in for a variety of music entertainment acts. The first "Car"cert at the Cole will be the jazz band A New Creation on Thursday, September 24, at 6 p.m. People are to remain in their cars while watching the performers on a stage that will be set up in front of the Cole. At the gate, the vehicle owners will be provided with the FM station to tune in on their car radios to hear the band, but the parking lot is designed so everyone can see the band and the action.
No advance purchase is necessary. Cash only at the gate for admission.
2020 Carcerts Schedule
A New Creation
Date: Thursday, September 24 at 6:00 p.m.
Tickets: $10 per vehicle
Facebook Event
Based out of Bennettsville, SC this is jazz flavor with a seasoned contemporary sound.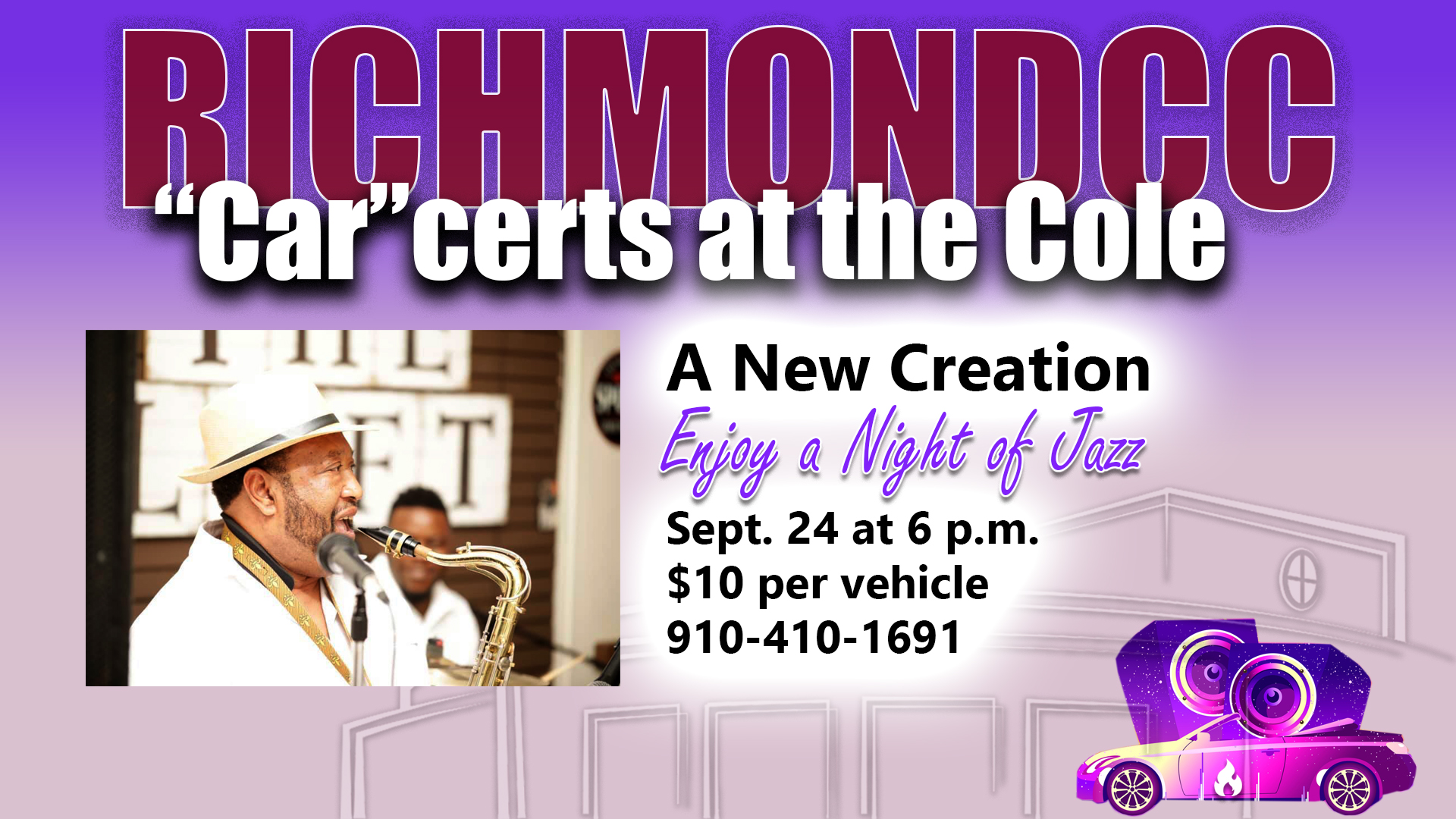 A New Creation was formed in 2006 by Dennis and Deborah Hardison, featuring lyrical saxophonist Dennis K. Hardison as the band leader and soloist. This is a unique ensemble that mixes inspiring blends and their own flavors of Jazz and Inspirational messages to audiences throughout the Carolinas! There is no limit to this group's versatility; Jazz, soul, R&B, and gospel to line dances, beach, and a little country. A New Creation will inspire, encourage, heal and deliver the hearts of all who listen.
The Ponder Project
Date: Friday, October 2 at 6:00 p.m.
Tickets: $20 per vehicle
Facebook Event
The Ponder Project is a rock band from Richmond County, NC.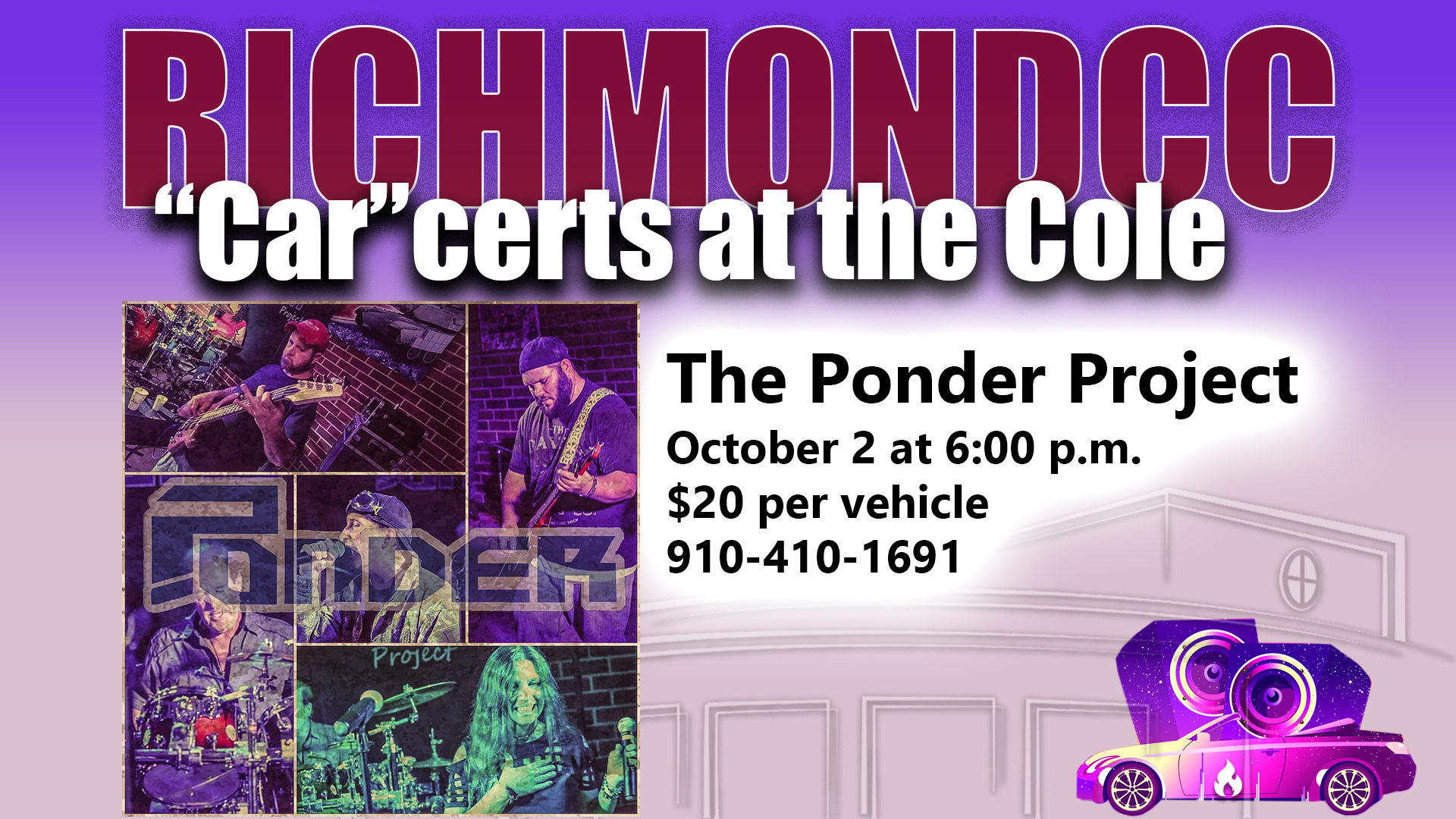 They deliver a variety of songs that span from the '70s to more recent hits from the last few years. The members are an eclectic group that have all had their hands, heads, and hearts in some sort of musical background. You'll be listening to tunes by the likes of Stone Temple Pilots, Heart, Meat Puppets, Kings X, ACDC, Steely Dan, The Donnas, Pink Floyd, Fleetwood Mac, Incubus, Led Zeppelin, just to name a few. Get ready to join the Ponder family!
Whiskey Brown featuring Rich. Co. native Rodney Ingle
Date: Thursday, October 8 at 6:00p.m.
Tickets: $15 per vehicle
Facebook Event
WHISKEY BROWN is ready to give you a shot of soulful, hard-hitting, contagious southern rock.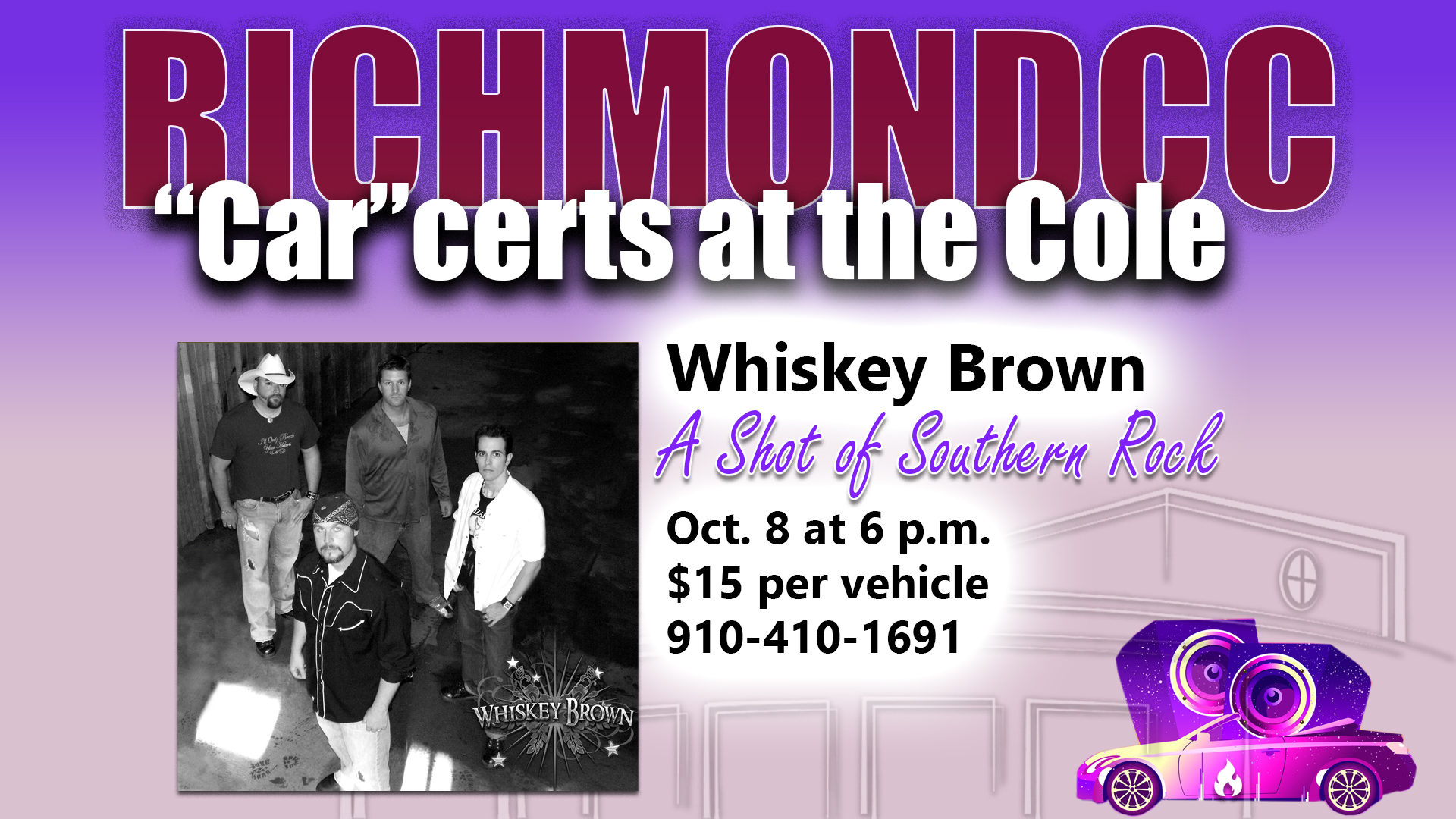 If today's brand of music still leaves you a little high and dry, these southern boys are ready to quench your musical thirst. Absorbing the essence of rock & soul with their passionate melodies and tasteful riffs, WHISKEY BROWN has refined the spirit in southern rock music by giving it their own unique twist and flavorful aroma if you will!! So if you're ready to experience something a little different just remember, not just whiskey... it's WHISKEY BROWN!
2nd Chance Ministries
Date: Thursday, October 15 at 6:00p.m.
Tickets: $10 per vehicle
Facebook Event
About 2ND Chance Ministries: Behind our name is a description of our journey, as well as how we should look at our lives through Jesus Christ.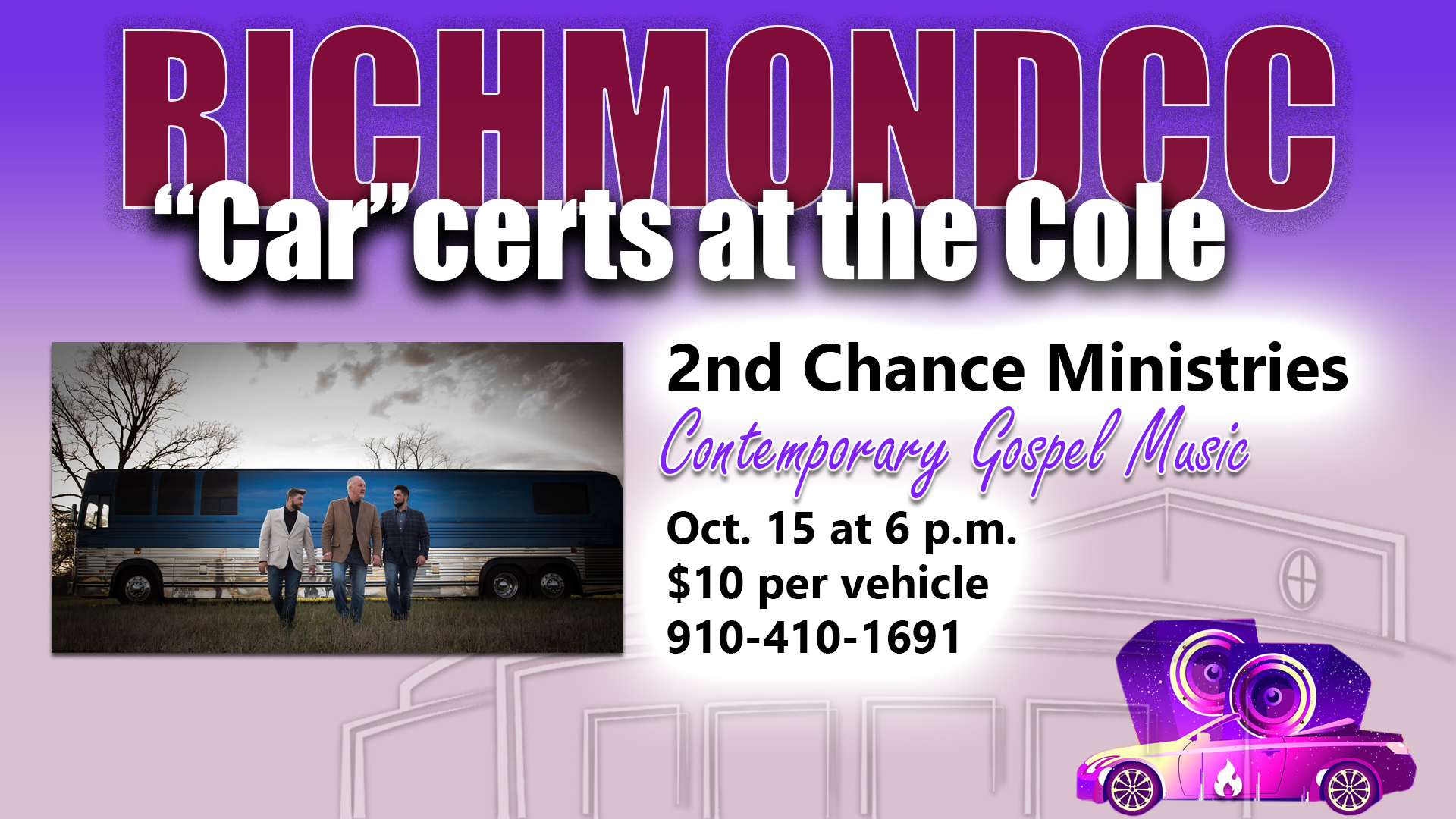 We know as Christians, God gives us a second chance at life as well as eternal life through His son, Jesus Christ. Each one us has our own story of how God has given us a 2nd Chance to fulfill the call of ministry. This ministry is not only to uplift but to bring Jesus to the hurting. Based out of South Carolina, the group members Todd Amerson, Ricky Malloy, Brandon Gainey have over 30 years of singing experience.
The Axe Handlers
Friday, October 23 at 6:00p.m.
Tickets: $15 per vehicle
Facebook Event
"The Axe Handlers," are brand new central N.C. based Bluegrass Band.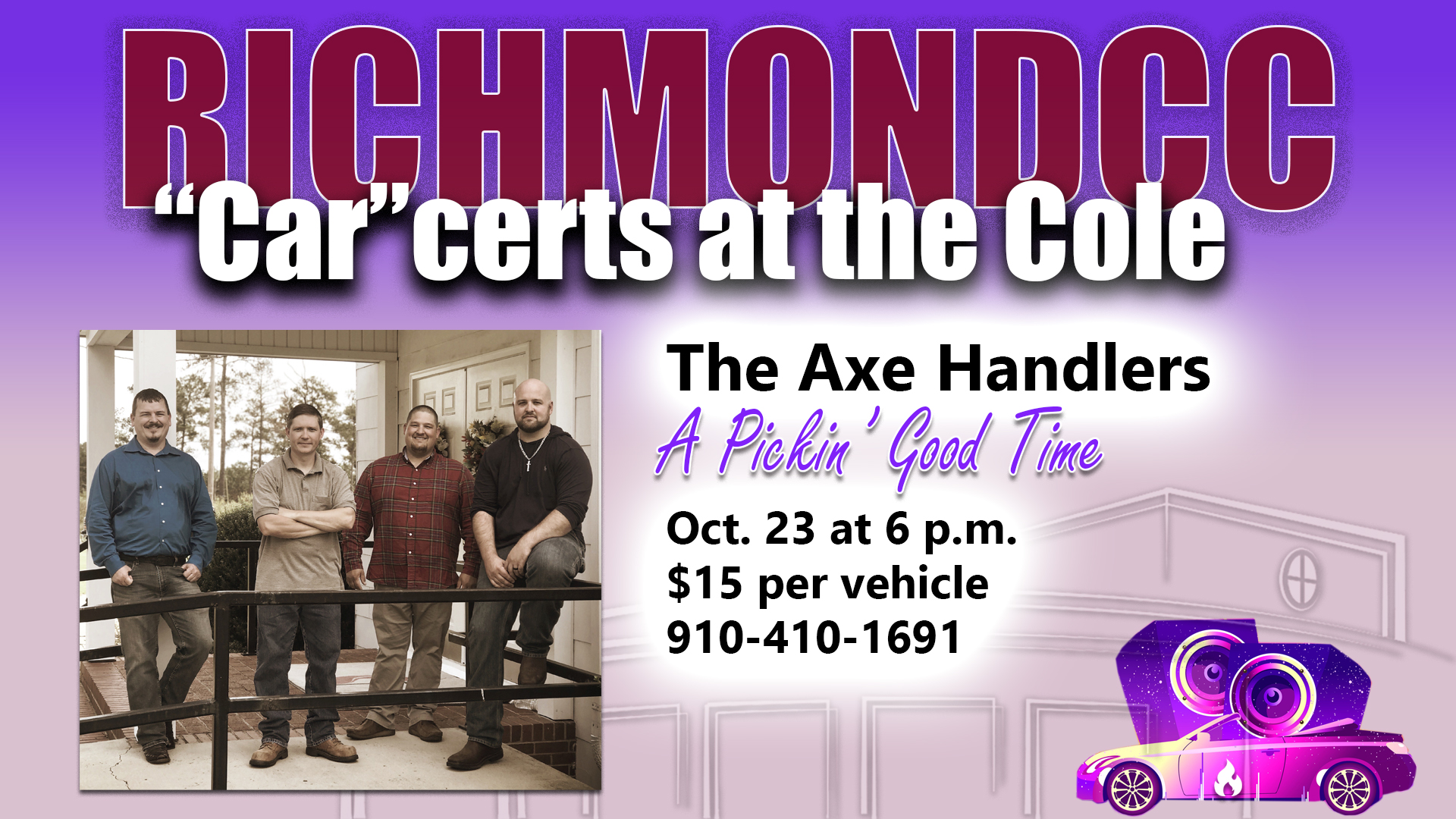 Their music style focuses on driving the front edge of the beat with high energy instrumentation & vocals. The band consists of Luke Vuncannon on guitar & lead vocals, Matthew Nance on banjo, singing tenor & baritone vocals, Jim Simpson on bass leading vocals as a baritone & tenor, and Boyd Hulin on mandolin as lead & tenor vocals. All 4 of the guys grew up playing & competing in fiddlers Conventions locally. Luke & Jim were in a band together for several years while Boyd & Matthew have been in a total of four bands together through the years. This is the first time all four have played together in the same band!
Cassette Rewind
Friday, October 30 at 6:00p.m.
Tickets: $20 per vehicle
Facebook Event
Born in the '80s, Raised on Radio. The Southeast's Premier '80s Tribute Band. Totally, authentically '80s!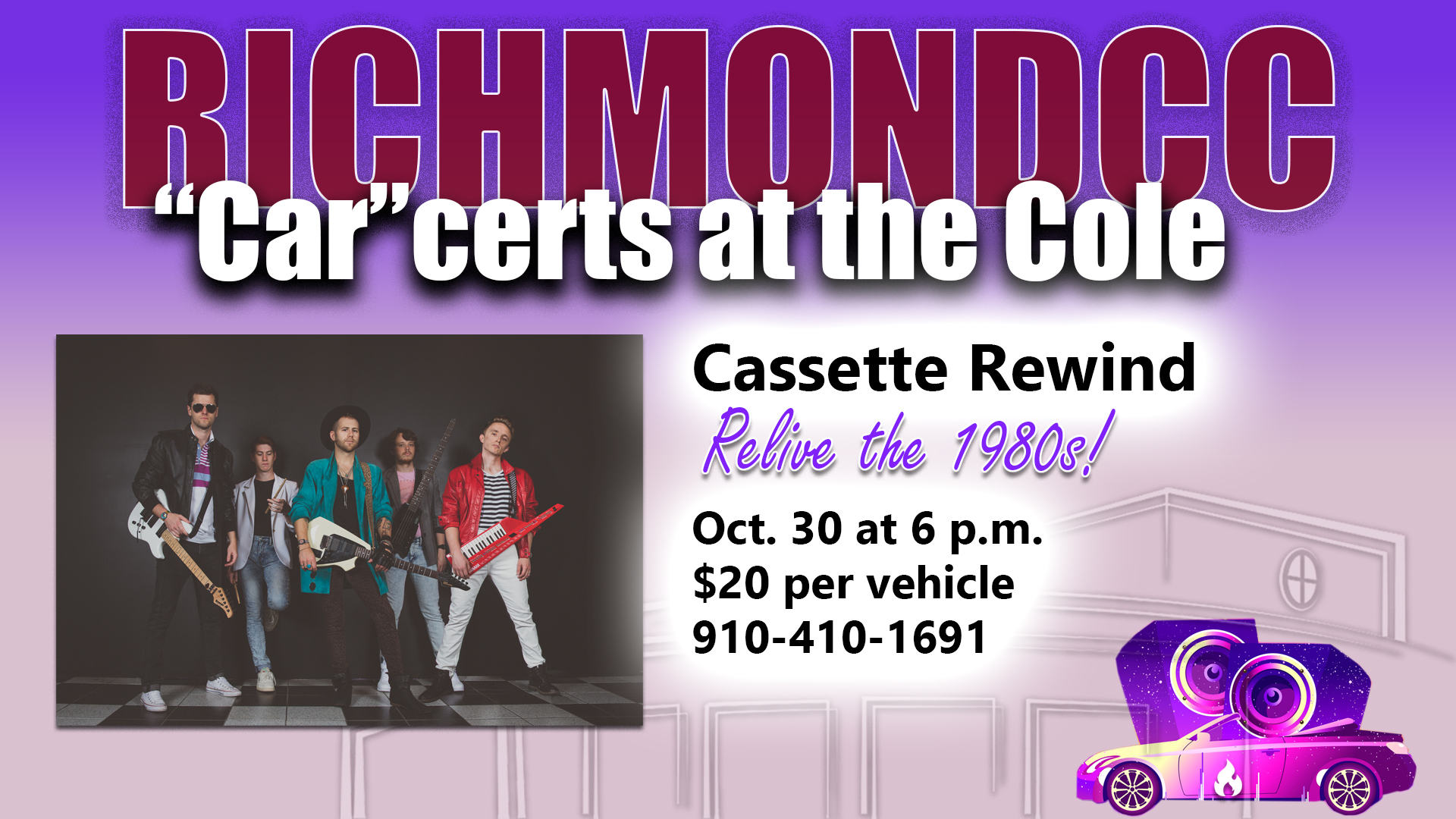 Who You Gonna Call to Go Back in Time? CASSETTE REWIND is the ultimate authentic '80s experience. Valley girls, jocks, preppies, and nerds will have the time of their life when the DeLorean hits 88 mph and suddenly they're at like, the most righteous party of the era. Feel the power of love when your bedroom boombox comes to life with captivating, dynamic performances of Prince, George Michael, Journey, Whitney Houston, and countless 1980s pop icons. Grab your Members Only jacket and put on your leg warmers because nothing's gonna stop you now from getting footloose and singing along. Be kind, please CASSETTE REWIND.