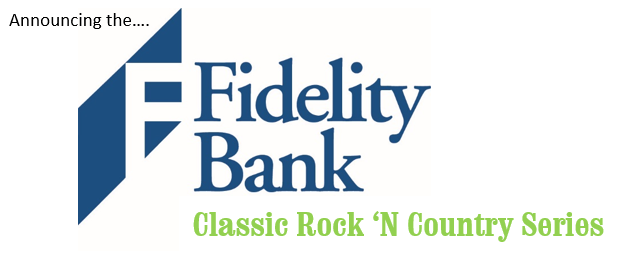 More Details and Show Announcement Coming Soon!
---
Here are some frequently asked questions about the new series:
Will the new series change the DeWitt Series?
The new series will allow a broader range of shows and genres to be represented in the DeWitt Series by moving the popular country shows to a separate series. We hope to return the DeWitt Series "to its roots" by offering more frequent Broadway shows, classical music, and more shows that appeal to a broad audience.
What shows will a part of the Fidelity Series?
As the title suggest, the series will feature shows in the country music and classic rock genres. The shows in the series will include major headlining shows, smaller up-and-coming artists, tribute and cover acts, and shows from the stars of the recent past.
When will the Fidelity Series shows take place?
The three-show series will kick off in January or February 2019. The shows will not conflict with the DeWitt Series shows but will be scheduled to complement the Series.
Do you have to purchase both series?
No. Patrons can choose to purchase one series or the other, or both series.
Will the Fidelity Series be reserved seating or open seating?
Reserved seating, based on this seating chart like the DeWitt Series.
Can season tickets holders purchase the same seats for the Fidelity Series that they have for the DeWitt Series?
Yes! We are giving DeWitt Series season tickets holders from the 2017-2018 Season until November 1, 2018 to purchase their same seats for the Fidelity Series or for the individual shows. After November 1, series or single show tickets will be still be available for the Fidelity Series but we are not able to guarantee that the same seats will be available after series shows open to the general public.
Can I get upgraded seats for the Fidelity Series?
In a process similar to the upgrade process for the DeWitt Series, patrons interested in purchasing season tickets for the Fidelity Series will be able to upgrade their seats once the November 1 deadline passes. Patrons will be able to select seats in one area for the DeWitt Series and in a completely different location for the Fidelity Series if they wish.
How do I get information about the Fidelity Series shows?
In addition to information delivered via the typical marketing outlets (newspaper, radio, social media), interested parties should contact the Cole Auditorium and ask to be sent information about the Fidelity Series. Their information will be placed on a waiting list to be contacted as soon as the series is announced. This waiting list will save their place in line once tickets go on sale but will not obligate them to purchase tickets. Tickets (as a series or as individual shows) will be available for the new series to the general public.
The Cole Staff is ready to answer any questions that you have about the Fidelity Series and the DeWitt Series!
Cole Box Office: 910-410-1691