SEarCH: Scotland Early College High School
Scotland Early College High School offers Scotland County High School students a tremendous opportunity to obtain an Associate Degree along with their North Carolina High School Diploma! Located on the beautiful campus of St. Andrews University in Laurinburg, North Carolina, SEarCH students are introduced at an early age to the climate of college life from a two-year and four-year perspective.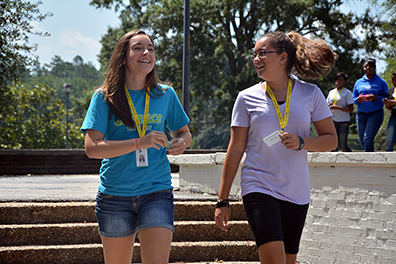 Mission Statement
Scotland Early College High School is a community in which everyone's beliefs, ideas, and differences are respected and celebrated creating a student-centered culture. We believe by way of open communication, academic rigor, personalized instruction and a thriving partnership between school and community, our students will succeed as individuals, professionals, and leaders.
Partners in Education
Scotland County Schools, Richmond Community College, North Carolina New Schools Project, and St. Andrews University combine resources to educate SEarCH students.
Student Population
SEarCH enrollment exceeds 225 students this school year! North Carolina New Schools Project policies require at least an 80% student population of first generation college of family students. For the 2014-15 school year, approximately 85% of SEarCH's student population fall into the first generation category. Specific SEarCH student population information can be found through Scotland County Schools.
Enrolling at SEarCH
All eighth grade students who reside in Scotland County are eligible to apply for entrance to SEarCH. SEarCH staff will visit each middle school during the month of February to provide information. Applications, an answer sheet for frequently asked questions, and a brochure will be available to prospective students. SEarCH will have two parent meetings during the last week of February to introduce our program.
Please note: Admissions decisions for the Scotland Early College High School are made by Scotland County Schools faculty and staff.