Richmond Early College High School (REaCH) is a high school of choice representing a partnership between Richmond County Schools and Richmond Community College. REaCH is administered through Richmond County Schools and is located on the main campus of Richmond Community College in Hamlet. REaCH provides a challenging, engaging, and relevant curriculum, and in five years of attendance, students can earn a high school diploma and an associate degree.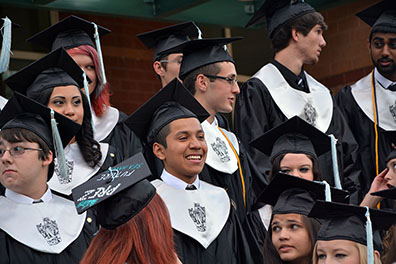 Mission Statement
The Mission of REaCH is to provide a small academically challenging learning environment to prepare students for their future by developing relationships, responsibility, and respect through relevant and rigorous coursework.
About REaCH
While traditional high school programs serve most students well, REaCH expands the learning opportunities for other students to offer them a rigorous curriculum that blends high school and college. This new program allows a student to attend high school on the campus of Richmond Community College and earn a high school diploma and two years of college credit in five years. The REaCH student must be a capable individual who possesses the maturity and independence to accept the challenges of this progressive school, be capable of honors level work, and participate in college classes. REaCH is targeted to those who are underrepresented in postsecondary education which may include, but not limited to, first generation of family to attend college and students for whom the cost of college is prohibitive.
Enrolling at REaCH
All 8th-grade students who reside in Richmond County are eligible to apply for entrance to REaCH. Representatives from REaCH visit 8th grade students at all middle schools during the month of February, and parent information meetings will also be held at night at Richmond Community College. Applications will be available at that time, and students will also be able to obtain an application from their school counselor. Applications are due the latter part of March. Please feel free to visit or contact us at (910) 410-1923.
Please note: Admissions decisions for REaCH are made by Richmond County Schools faculty and staff, not representatives from Richmond Community College.